News Letter/Announcement
24th Indian Veterinary Congress, LUVAS, Hisar in Feb 2024
Dr. Anand Kumar Pandey
Professor & Head
Organizing Secretary, 24th IVC
Department of Veterinary Gyaenecology & Obstetrics
College of Veterinary Science
Lala Lajpat Rai University of Veterinary & Animal Science
HISAR-125004
Mobile: 8278288210
PREAMBLE
Indian Association for the Advancement of Veterinary Research [IAAVR] registered under the society Act 21, 1860 represents professionals, researchers and students from all over India engaged in the field of veterinary research institutes universities, pharmaceutical organization and other organizations. Member of the association will uphold the activities and reputation with the association with an aim to serve humanity and animals welfare.

We represent professionals, researchers and students from all over India engaged in the field of veterinary research, education and extension.
QUALITY POLICY
TO ENHANCE QUALITY AND VISIBILITY OF VETERINARY PROFESSION INTERNATIONALLY BY PROVIDING OPPORTUNITIES FOR INTERACTION, PUBLICATIONS AND ENCOURAGEMENTS BY WAY OF AWARDS TO OUTSTANDING VETS FOR THEIR CONTINUAL IMPROVEMENT
QUALITY OBJECTIVES
To promote advancements in veterinary research and develop leadership in Vets
To arrange scientific meetings, seminars, conferences, symposia, workshop, group discussion in the Veterinary science to provide a common platform for the mutual exchange of the knowledge
To publish a biannual "The Indian Journal of Veterinary Research'' and scientific proceedings and other publications to disseminate the current knowledge of Veterinary Science.
To collaborate with other societies and associations of the Veterinary Science and to keep a liaison with Governments Departments, Universities and other organizations both in public and private sectors.
To develop human resource development (HRD) providing students participation in various scientific activities of association.
MILESTONES
1- IAAVR was registered on 8th January 1991
2- IAAVR organized first meeting of its inauguration having Dr. P.N, Bhat, Director, IVRI as its Chief Guest
3- IAAVR released The Indian Journal of Veterinary Research through hands of Dr. D.S. Balain, Director, IVRI
4- IAAVR launched its website www.iaavr.org through hands of Dr. Tej Pratap, Vice-Chancellor, CSK University
of Agriculture & Technology, Palampur
5- IAAVR first time released abstracts in CD form to Nagpur
6- IAAVR became Associate Member of World Veterinary Association in 2004-2005
7- IAAVR started Fellowship in 1996; first being during inauguration in 1996 at CARI, Izatnagar
8- IAAVR made a MoU with Indian Journal.com for online availability of The Indian Journal of Veterinary
Research
9- IAAVR started first Conference and symposium in 1994 at IVRI, Izatnagar
10-IAAVR coined and introduced the term "Indian Veterinary Congress" and replaced the usual trend of
Conference
11- IAAVR provided a Hindi version of abstract in the Indian J. Vet. Research from (1992-2001)
12- IAAVR conducted interface with field veterinarians with support of Intas Pharmaceuticals during First Indian Veterinary Congress in 2000 held at IVRI, Izatnagar
ACTIVITIES
The Association provide a common platform for the mutual exchange of knowledge and views. It will have voice of dedicated veterinarians to tackle various problems relating to veterinary research. Over and above the association will speak collective knowledge of its members by conducting seminars, symposia, conferences and publication of scientific literature. It will help in the formulation fo policies and their recommendations.
PUBLICATION
The Indian Journal of Veterinary Research- a bi-annual publication, is an official organ of the association. The journal is supported by a advisory board and editorial board. The aim and scope of the journal is to publish original papers, critical reviews, clinical papers etc covering all subjects of veterinary science. The other attractive facets of the journal is its periodicity, rapidity in publication and high level of standard satisfying both contributors and readers.
BENEFIT TO MEMBERS
1-Representation
2-Journal
3- Meeting and Symposia
4-Publication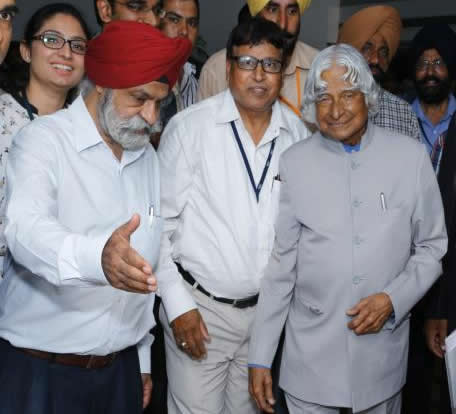 Dr. Rishendra Verma with Hon'ble Dr. Abdul  Kalamji  (30th Sept 2014, IMTECH, Chandigarh)