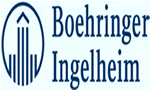 Corporate Office:
Boehringer Ingelheim India Pvt. Ltd.
1102, Hallmark Business Plaza
11th Floor, Gurunanak Hospital Road
Near Gurunanak Hospital
Bandra (East), Mumbai, (Maharashtra) 400051, INDIA
Tel: 022 2645 6477
Fax no.+91-22-71456766
email:
Website: www.boehringer-ingelheim.in
Improving the health and quality of life of patients is the goal of the research-driven pharmaceutical company Boehringer Ingelheim. The focus in doing so is on diseases for which no satisfactory treatment option exists to date. The company therefore concentrates on developing innovative therapies that can extend patients' lives.
Boehrinher-Ingelheim is a family-owned business since it was established in 1885.We are one of the pharmaceutical industry's top 20 companies. Some 50,000 employees create value through innovation daily for the three business areas human pharmaceuticals, animal health and biopharmaceuticals. In 2017, Boehringer Ingelheim achieved net sales of around 18.1 billion euros. R&D expenditure, exceeding three billion euros, corresponded to 17.0 per cent of net sales. As a family-owned company, Boehringer Ingelheim plans in generations and focuses on long-term success, rather than short-term profit. The company therefore aims at organic growth from its own resources with simultaneous openness to partnerships and strategic alliances in research. In everything it does, Boehringer Ingelheim naturally adopts responsibility towards mankind and the environment.
Animal Health
In animal health, Boehringer Ingelheim stands for advanced prevention.The Boehringer Ingelheim Animal Health business is a global leader in animal health. Our work is guided by a passionate belief in a future in which no animal suffers from a preventable disease.
• We provide advanced, preventive animal healthcare.
• We develop vaccines, parasiticides and pharmaceuticals that protect animals against disease and pain.
• We develop new and advanced therapies to help manage chronic diseases more effectively, limiting pain and slowing down disease progression.
Across the globe, we create the future of animal well-being, a future defined by science and powered by innovation, so critical for our success. Through our innovative and ground-breaking solutions, our highly-skilled employees support farmers, veterinarians and pet owners who raise and deeply care for their animals.
Humans and animals share a fundamental bond, and as animals play an increasingly significant role in our lives, we believe that prevention is better than treatment.