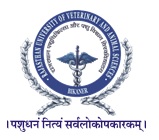 Prof. Satish Kumar Garg
Vice-Chancellor
Rajasthan University of Veterinary and Animal Sciences
Bijey Bhawan Palace
Bikaner (Rajasthan) – 334001
Phone : 0151-2540021
Email: vcrajuvas@gmail.com
Website: www.rajuvas.org
Rajasthan University of Veterinary and Animal Sciences (RAJUVAS), Bikaner is a constituted body corporate established under Sub-section (3) of Section 1 of the Rajasthan University of Veterinary and Animal Sciences Act, 2010. The University came into existence on 13th day of May, 2010. Rajasthan University of Veterinary and Animal Sciences, Bikaner has been established for development of Veterinary and Animal Sciences education and undertaking research in larger perspective of the state Rajasthan in particular while whole country in general and undertaking extension activities for dissemination of scientific knowledge and know-how o different stake-holders, especially farmers and livestock-keepers and ensuring capacity building and skill development of field officers through continuing veterinary education in the areas of Veterinary and Animal Sciences and allied sectors. University is marching ahead to provide technical and scientific support for transforming state animal husbandry from sustainability to improved profitability. Improved production in association with productivity spurt has led the State to be one of the most important livestock states of the country having largest animal biodiversity and producer of significant proportion of milk, meat and wool with the support of scientific and technological interventions.
Rajasthan University of Veterinary and Animal Sciences, Bikaner is fast growing institution and within a short span of almost ten years has made impact in veterinary education, research and extension in the state through three presently running constituent Veterinary Colleges located at Bikaner, Navania (Udaipur) and Jaipur, seven constituent Animal Husbandry Diploma Institutions. Two more new constituent Veterinary Colleges have also been sanctioned by Government of Rajasthan at Jodhpur (2019) and Nawa, Nagaur (2021) and construction works for these are in progress. With the addition of one new Dairy Science & Technology College at Bikaner and one new Dairy and Food Technology College at Bassi, Jaipur in the year 2021, now the University has evolved as multi-faculty University. In addition to the seven constituent colleges, University also has ten state funded advanced research centres, nine Livestock Research Stations and sixteen Pahsu Vigyan Kendra and one Krishi Vigyan Kendra. Apart from the constituent Veterinary Colleges and other units, University also has four affiliated private Veterinary Colleges and 74 affiliated diploma institutes. All the constituent Veterinary Colleges of the University have been included in Schedule I of Veterinary Council of India.